STATE OF WIKIPEDIA REPORT
Break through the chaos.
Receive insights from a
business perspective.
Our State of Wikipedia Report is your ticket to clarity. 
This free monthly report provides insight into the biggest, latest developments in the tech and internet industries as they pertain to Wikipedia.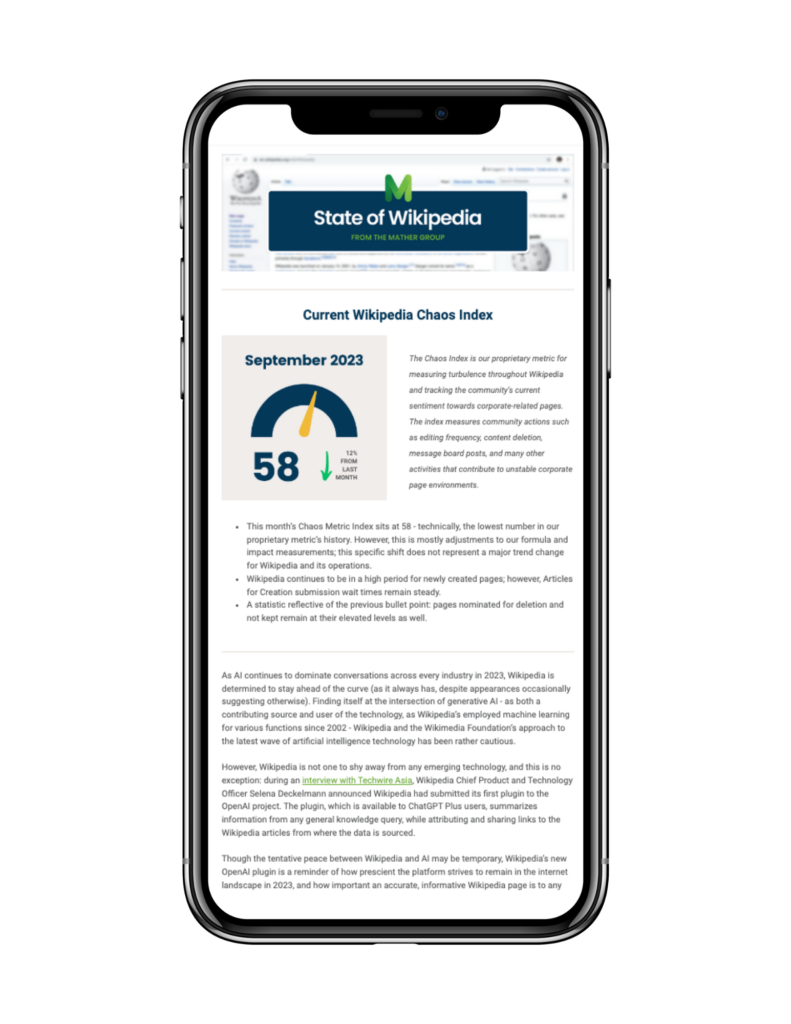 Wikipedia has its own rules and guidelines that are understood, followed, and enforced differently by the thousands of editors that collaborate on the site. 
The website impacts online reputations in numerous ways, but can't be controlled by marketing or PR teams. No company owns their Wikipedia article. 
This puts many companies in a state of confusion. How do they think about Wikipedia? What technology and policy changes around the world are impacting Wikipedia? How do those changes affect company online reputations?
Our State of Wikipedia Report has the answers.
Each month, we explain why certain changes either matter or don't, and take a look at trends in page editing, creation, and deletion. We use a variety of measurements, analyze them with our proprietary methodology, and deliver the results straight to you. Expect answers to questions such as:
What recent news is relevant to my industry?
How do technology developments affect me?
How active are editors right now?
Are conflict of interest notices on the rise?
How many pages have been nominated for deletion?
Use this information to better understand how your Wikipedia article will affect your wider online reputation and what to expect when you work on Wikipedia.