Wikipedia, a global phenomenon, has been busy in 2022. While it isn't a marketing tool, the online encyclopedia is closely tied to business organizations and the world at large. Decisions it makes affect the online presence and reputations of organizations, and, in turn, those organizations and real world events can affect the encyclopedia.
Let's look at recent events and discuss what marketing strategists need to do to adapt to the changes smoothly.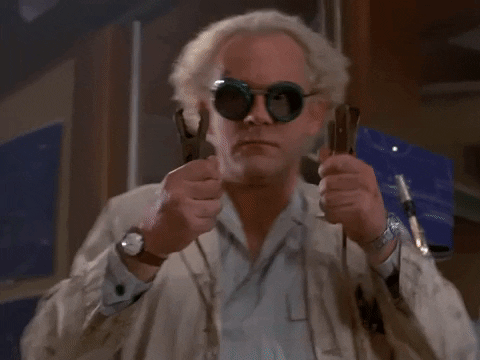 The Wikimedia Foundation enters into enterprise deals
First, a bit of news from June for those who missed it. The Wikimedia Foundation announced that they've entered into enterprise commercial access deals with Google and The Internet Archive through Wikimedia Enterprise. 
Both Google and Internet Archive, use Wikipedia data for their own businesses and will now have greater formalized service agreements. Wikimedia Enterprise provides real-time content updates on Wikimedia projects, guaranteed uptime, and other system requirements beyond what is provided freely through publicly available APIs and data dumps. 
For Google, who pulls on Wikipedia content for everything from knowledge panels to featured snippets to Alexa, the agreement should make the content sourcing process more efficient. The Internet Archive, the creator of the Wayback Machine, will use the deal to archive more of the internet more quickly and reliably.
What it means for businesses
This is an interesting development that, among other things, shows the continued maturity of Wikipedia as a platform. It also is a reminder that the largest internet company in the world highly values Wikipedia, and will likely continue to integrate it into its own business interests. If you care about how you're showing up in Google, then you should also be paying attention to what's happening on Wikipedia. 
Wikimedia Enterprise reports that, within a year of its commercial launch, it is covering its current operating costs and has a "growing" list of users interested in its product. Ultimately, Enterprise wants to help make Wikimedia content easier to discover, find, and share in order to advance knowledge equity and knowledge as a service.
So, we all need to ask ourselves: how many companies are willing to start paying for Wikipedia's vast content reservoirs?
Bottom line: While still in the early stages, we expect to see this increase the number of companies wanting Wikipedia pages, the number of companies wanting updated pages, and the number of editors scrutinizing all activity to ensure nothing falls into the realm of promotional advertising.
The 'Recession' Wikipedia page becomes a battleground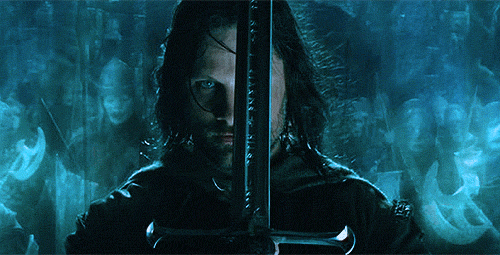 After the Biden government announced that the U.S. is not in a recession, many Wikipedians raced to the Recession Wikipedia page to attempt to narrow the definition of a recession – both in defense of and opposition to President Biden. 
This created an edit-war, with edits being made and reverted faster than people could follow, and many discussions taking place as people argued and tried to justify their edits.
Wikipedia administrators responded by labeling the page "semi-protected." This meant that new and unregistered users couldn't edit the page, although they could request edits by proposing them on the page's talk page.
If you're wondering what an edit war looks like, the page had:
6 edits in January 

1 in February 

1 in March 

2 in April

8 in May

3 in June

179 in July
190 in August

8 in September
The talk page also reveals these interesting stats: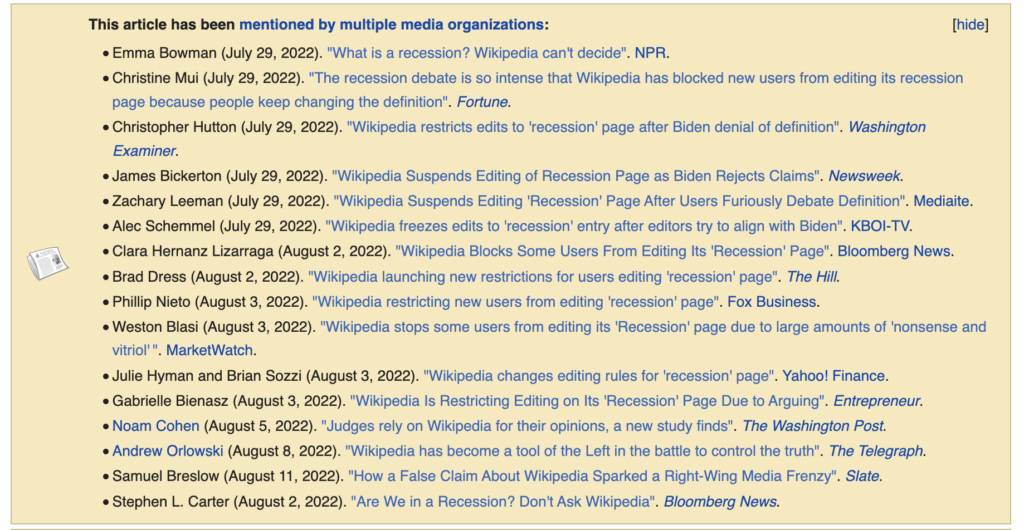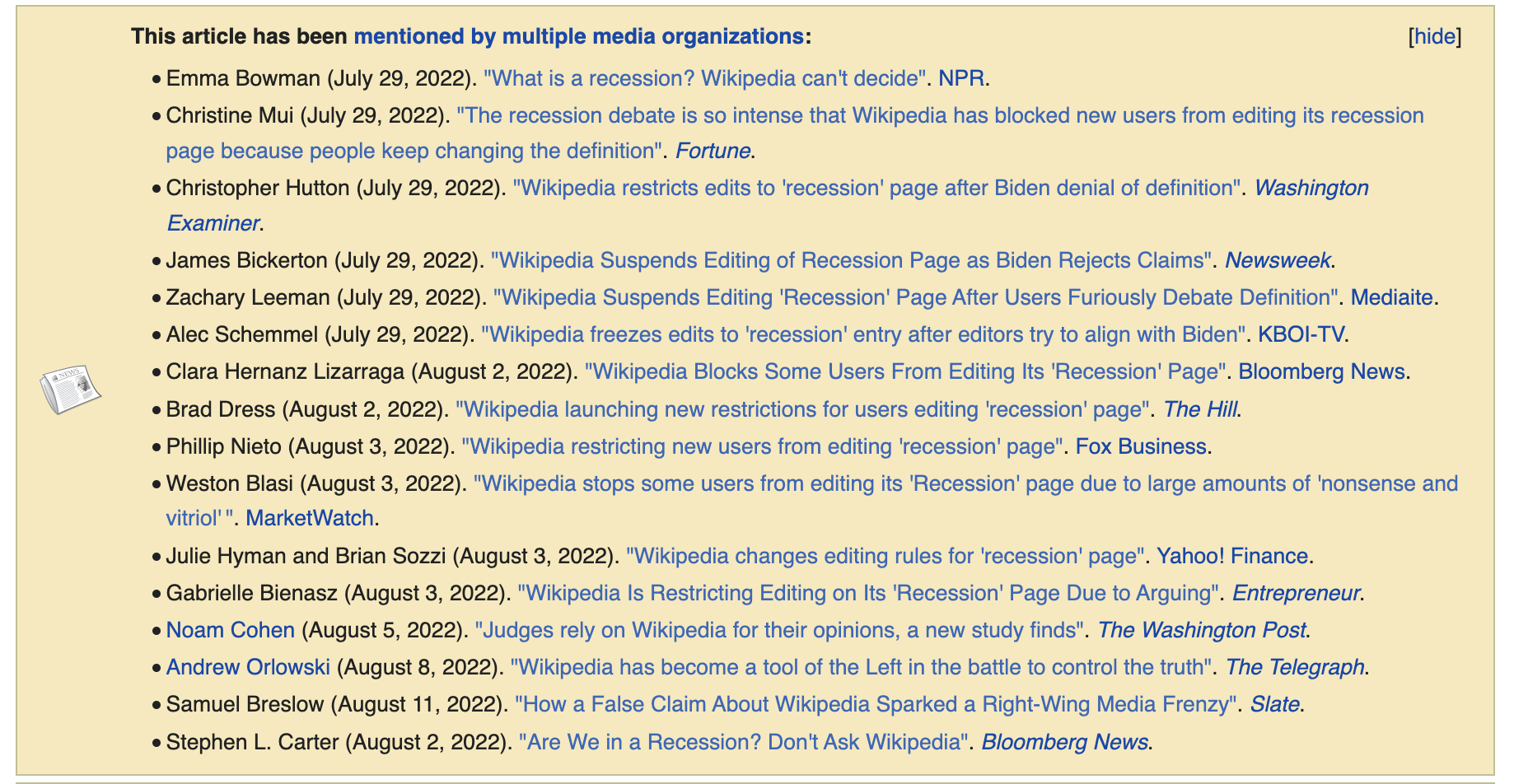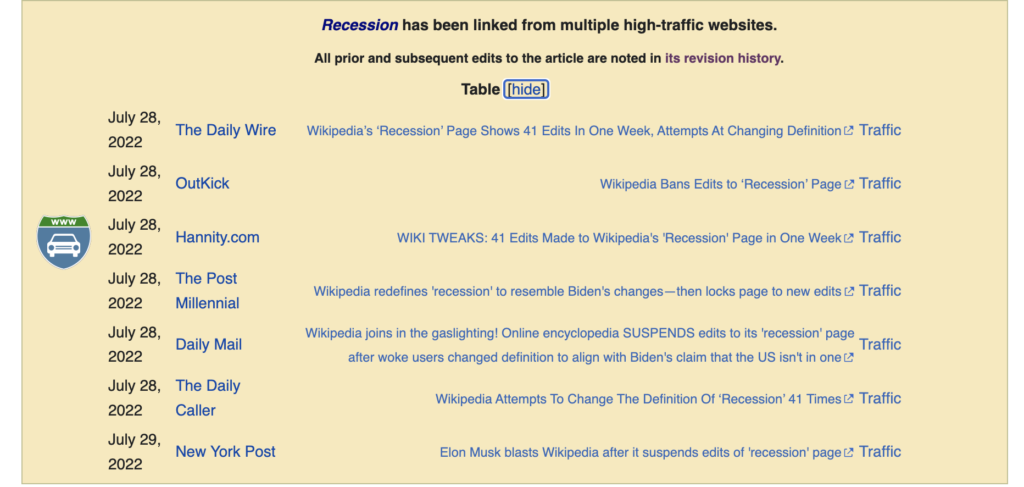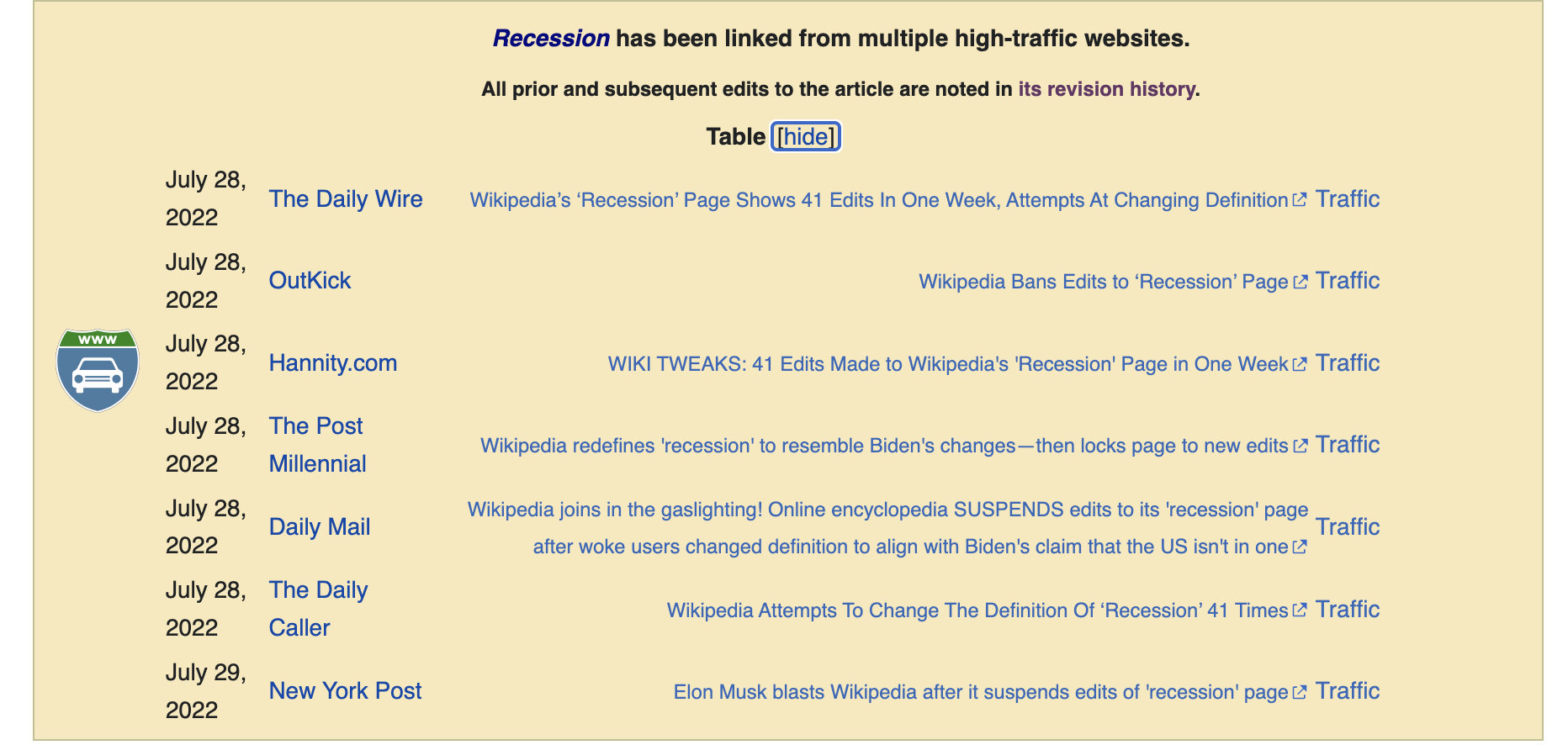 What it means for businesses
This is a great example of how anyone can edit Wikipedia in theory, but not in practice. It also provides a good look at what Wikipedia editors will do to prevent people from using Wikipedia for their own agendas. 
There are thousands of eyes out there, ready to jump on anything they see as against the rules. Not that editors are unreasonable. Many are genuinely invested in topics and want them to be well-represented with factual, unbiased content. Problems arise when it is hard for organizations to remove their marketing goggles and write about their company objectively. This is why Wikipedia pushes against COI. 
One thing that was not discussed in the many news articles though, was the fascinating FAQ that was posted to the talk page. 


This is highly unorthodox and generally frowned upon as it gives precedence to one person's opinions. However, as we always say, each Wikipedia article is its own ecosystem and cannot be compared to others. There are expectations and guidelines as to how a Wikipedia editor should behave and what is permissible in articles and talk pages, but the reality is that people are people and have different interpretations of everything.
This entire episode is a great reminder of how current events can incite chaos and ripple across Wikipedia; and, how a war of words on Wikipedia can trigger larger "real world" controversy and news.
Bottom line: Be careful how you approach Wikipedia editing. Respect its (many) rules, processes, and best practices, and all other editors.
Meta launches a new AI for Wikipedia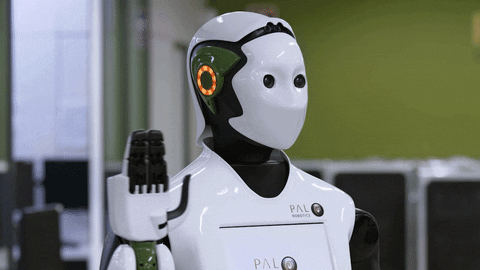 Meta released a new AI that will review citations to make sure that the content on a Wikipedia page is actually found in the cited source. This is an attempt to take people out of some of the more tedious research involved in page review.
There have been a number of articles we have come across that look well-sourced, but are actually using the sources incorrectly. Catching this takes a lot of time, energy and effort, and there are only so many editors available to man the behemoth. The AI should be useful.
Questionable citations will be highlighted for easier review by human editors. Any citation not up to par – and corresponding content – can be deleted or flagged as needing a new source. A flag tells readers that the information isn't reliable.
What this means for businesses
This is really important for you if your page is not sourced well or correctly. You might have been able to fly under the radar for a while, but this will likely change once the AI is in production. 
Bottom line: It's time to review your Wikipedia page and ensure you don't have any blatant violations or dead links supporting important content.
Keeping one eye on Wikipedia
In a world where, increasingly, facts aren't always seen as facts, Wikipedia will always be embroiled in various controversies and discussions. However, its reach and prevalence continues to grow. The number of people that went to the Recession Wiki page reached 200,000 in one day! As we contemplate the continued lack of editors, diversity of editors, and biases that Wikipedia can contribute to, we have to keep in context its cultural impact and scope. 
If you're interested in monthly insights and action updates, sign up for our State of Wikipedia report. We sift through and analyze Wikipedia changes and news every month and then let you know exactly how it impacts you, so that you don't have to spend your time wondering how to prepare.
If you have any questions about the Report, this post, or any wider marketing concerns, please don't hesitate to reach out.